After a two-year break due to the COVID-19 pandemic, international study opportunities are finally opened up again!
UNIST Center for International Affairs is where the exciting global communications and program management happen. The most popular global programs among students are the Exchange Program, UNIST Global Program (UGP), and Overseas Research Internship Program. UNIST has 15 partnered universities in 9 different countries and is seeking to expand the pool of partnerships in the near future.
Exchange Program provides chances for UNIST students to study abroad for a semester or two at UNIST's partner universities. UGP is a short-term program collaborated with and held by UIUC and Aalto University. The program gives students an educational & cultural experience overseas through customized courses and allows students to enjoy the vibe abroad. The Center is currently seeking more valuable opportunities to support the students on getting diverse experiences to become global leaders! We recently met with five students to explore their stories on their exchange and overseas research internship. Read about the incredible adventures of our recent outgoing and incoming exchange students.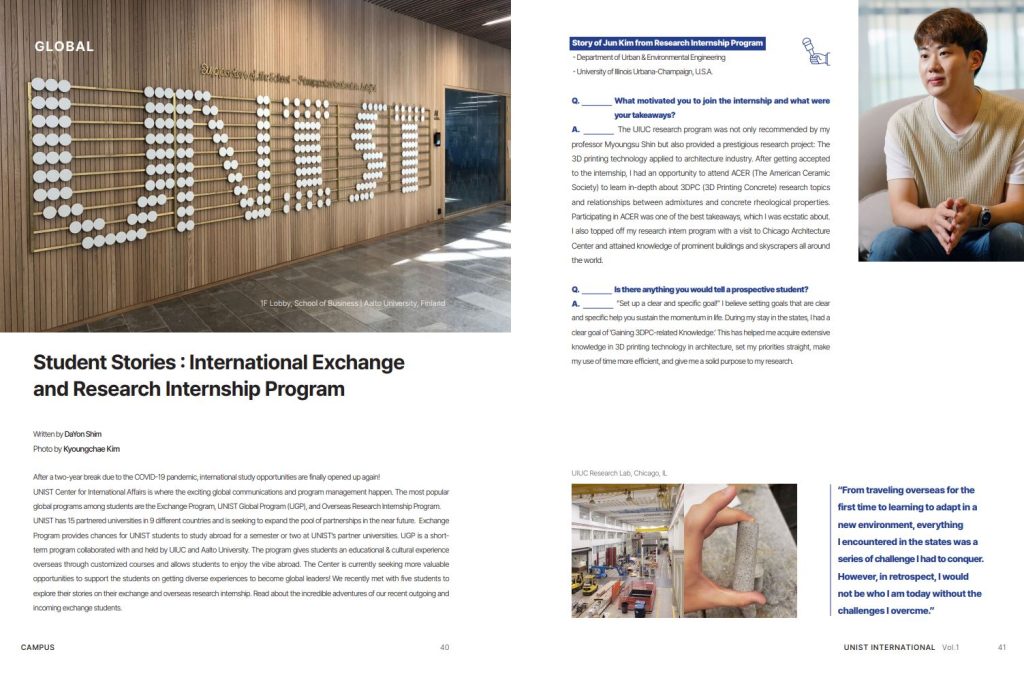 From traveling overseas for the first time to learning to adapt in a new environment, everything I encountered in the states was a series of challenge I had to conquer. However, in retrospect, I would not be who I am today without the challenges I overcame.
UNIST Center for International Affairs offers several options for students who want to gain research experience. Jun Kim (Department of Urban and Environmental Engineering, UNIST) shared his research internship story from the University of Illinois Urbana-Champaign (UIUC), IL, United States. Let's explore the story of Jun Kim from his recent research internship program!
Q. What motivated you to join the internship and what were your takeaways?
The UIUC research program was not only recommended by my professor Myoungsu Shin, but also provided a prestigious research project: The 3D printing technology applied to architecture industry. After getting accepted to the internship, I had an opportunity to attend the ACER (American Ceramic Society) to learn in-depth about 3DPC (3D Printing Concrete) research topics and relationships between admixtures and concrete rheological properties. Participating in ACER was one of the best takeaways, which I was ecstatic about. I also topped off my research intern program with a visit to Chicago Architecture Center and attained knowledge of prominent buildings and skyscrapers all around the world.
Q. Is there anything you would tell a prospective student?
"Set up a clear and specific goal!" I believe setting goals that are clear and specific help you sustain the momentum in life. During my stay in the states, I had a clear goal of 'Gaining 3DPC-related Knowledge.' This has helped me acquire extensive knowledge in 3D printing technology in architecture, set my priorities straight, make my use of time more efficient, and give me a solid purpose to my research.
My time as an exchange student at Jacobs University was like the 'Narnia Chronicles!' At the beginning, I felt like the four Pevensie children who discovered Narnia through a wardrobe – at first, everything was exotic and unfamiliar, but as time went by it was like I never left Germany.
Studying abroad can be a life-changing and an enriching experience for students who want to gain study abroad experience. Sungmin Shin (Department of Electrical and Computer Engineering, UNIST) shared his exchange story from the Jacobs University in Bremen, Germany. Let's explore the story of Sungmin Shin from his recent exchange program!
Q. Which program or class did you enjoy the most?
Art museum Tour, a special program opened only for exchange students, was one of my favorite classes and experiences. We had a chance to visit art museums in Bremen, Hamburg, and Hanover every week to learn about art history and to explore a diverse range of art.
Q. What impressed you the most at Jacobs University?
During my stay in Germany, I had an opportunity to meet students from over 30 countries. Despite our cultural differences, I was taken by surprise to learn how similar we were. We all shared similar food tastes, goals in life, and most importantly we all loved our lives in Germany.
Q. Is there anything you would tell a prospective student?
The world is a big place, and Jacobs University will be the best location to meet international students from more than 100 countries while expanding personal boundaries, culturally and socially. My stay at Jacobs University was one of the most valuable experiences I ever had in my life, and I wish fellow UNIST students get an opportunity to have an adventure of their own as well.
Stories from In & Outbound Exchange Students!
UNIST Center for International Affairs also offers various programs for students who want to gain educational experience abroad on a short-term basis. Below are the stories from in and outbound exchange students from their exchange experience, let's explore!
Dahyeon Kim (UNIST) recently participated in an exchange program through which she spent the semester studying at Insa Lyon in France. "I was motivated to participate in INSA Lyon's exchange program because I was hoping to take classes related to my major," said Dahyeon. "At INSA Lyon, I was able to acquire practical skills related to my research, using Linux. I am excited about the new skills I attained and look forward to applying it to my work."
I came to UNIST to explore the Korean way of living. Everything has all been so interesting, and I can't wait for more!
Bernard Jenniskens (Eindhoven University of Technology, Netherlands) came to UNIST to explore the Korean way of living. When asked what made him come to S. Korea and choose UNIST particularly, he said "I have been dreaming to study abroad since I remember myself, so when I first heard about the program, I had an immediate attraction to UNIST and Korea."
My time as an exchange student at UNIST has been refreshingly different, yet full of new challenges and opportunities! I can't wait to experience them all! 
Liaqat Awais (INSA Toulouse, France) came to UNIST to broaden his knowledge in the areas of aerospace and 3D CAD. When asked what made him come to S. Korea and choose UNIST particularly, he said "I chose UNIST because it offers extensive aerospace and 3D CAD related classes. I have been working on my own personal projects in the aerospace field and am thrilled to see what I can learn throughout the semester."