A new cooperative network among the regional industries, universities, research centers, hospitals, and the government will be established in Ulsan to develop new technologies for the diagnosis and treatment of leukemia. A large-scale research group has been launched to lead the research and development of targeted therapies for leukemia, which extends from basic research to clinical and commercialization.
On February 25, a ceremony to mark the official launching of the 'Leukemia High-Precision BioResearch Group (Tentative Name)' took place in the Natural Science Building (108) at UNIST. This was followed by academic seminars, highlighting future research priorities and directions in the field of leukemia research.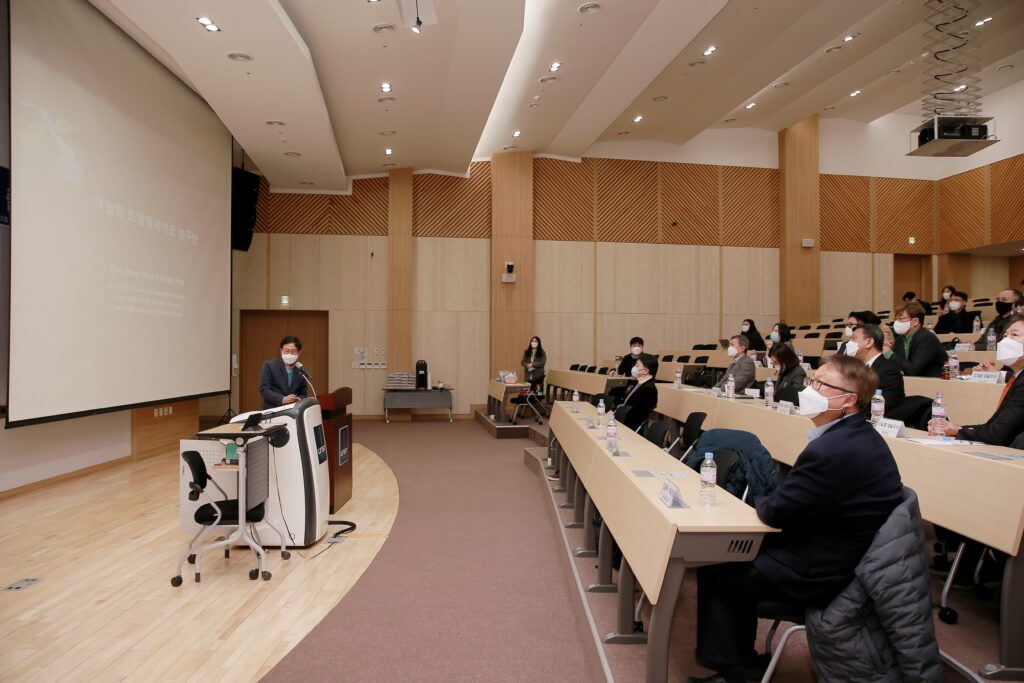 A total of 13 organizations will be joining this research group, including UNIST, Uijeongbu Eulji University Medical Center, Daewoong Pharmaceutical Co. Ltd., Korea Otsuka Pharmaceutical Co., Ltd., BioSewoom Inc., Green Cross Laboratories, B2S Bio, ImmunoForge Inc., OPTOLANE Technologies Inc., METAPORE Co., Ltd., Pharos iBio, ROKIT Genomics Inc., and the National Cancer Center.
The new research group was founded with the aim of establishing a world-class leukemia research center that encompasses occupational leukemia by integrating biomedical sciences, clinical trials, and AI techniques. With basic research, concerning the onset, drug resistance, and recurrence of leukemia, the group further plans to provide personalized diagnosis and treatment.
Participating organizations will work together by demonstrating their talents, skills, and abilities in their respective fields. To this end, UNIST will exert its full competence through the identification of novel candidate drugs for leukemia through the utilization of AI and genomic analysis. The Department of Biological Sciences at UNIST, together with the C5 Cancer Control Research Center will carry out the basic research in life science. The Korean Genomics Center (KOGIC) will be in charge of the genomic analysis of AML samples, while the UNIST Graduate School of Artificial Intelligence will carry out the preliminary examination of candidate substances.
The Uijeongbu Eulji Medical Center will be in charge of the basic clinical and translational research related to leukemia, as well as the development of medical AI through the use of a precision medicine platform.
Pharmaceutical companies and bio companies will be in charge of the commercialization of bio-diagnosis and treatment technologies, secured through basic research. They aim to secure patents related to genetic verification diagnostic kits and treatments and to produce high value-added products.
Professor Hongtae Kim from UNIST's Leukemia Research Institute, together with Professor Dong Wook Kim from Eulji University's Leukemia Omics Research Institute has been making important discoveries in the field of leukemia, which includes the discovery of genetic abnormalities associated with acute progression of chronic myelogenous leukemia (CML) and the identification of anti-cancer drug target genes. Besides, a research team, led by Professor Dong Wook Kim was selected as the Korea Research Foundation's BioMedical Technology Development Research Project for Next-Generation Advanced Omics in 2020 and secured KRW 2.8 billion in research funds for five years.
Meanwhile, the seminar was held under the theme of Omics Research, gathering experts, researchers, and workers of participating organizations. It took place in the order of an overview of omics research, targetted omics research, diagnosis research, presentations of treatment effects, and panel discussion.