Winners of iF Design Award 2019: IMON (Prof. Chajoong Kim), stool.D (Prof. Young-Woo Park), and $100 Library (Prof. KwanMyung Kim).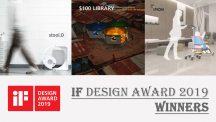 The Graduate School of Creative Design Engineering (CDE) at UNIST has once again been recognized for design excellence, worldwide. They announced that three of their design concepts have been selected as the winners of the iF Design Award 2... Read More
Professor Chajoong Kim's self-care medical device 'Zephyr' has been awarded Platinum in the Fall 2018 Spark Awards.
A total of 6 design teams, including Professor KwanMyung Kim and Professor Yunwoo Jeong, have been recognized at the competition.
People with visual impairment injure their hands even more, as touch is the primary way for them to identify objects around them, from tools with sharp edges to items on hot surfaces. In this regard, we wanted to help them to treat themselv... Read More