Their findings have been published in Advanced Materials as the front cover paper.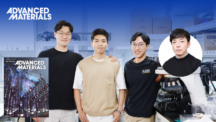 Abstract Self-assembly of nanoparticles (NPs) is a powerful route to constructing higher-order structures. However, the programmed self-assembly of NPs into non-close-packed, 3D, shape-morphing nanocilia arrays remains elusive, whereas dyna... Read More
Changyoon Jeong and Hyun-Ha Park, recent PhD graduates from the School of Mechanical and Aerospace Engineering at UNIST have been appointed as new professors at Yeungnam University and Wonkwang University, respectively.
The School of Mechanical and Aerospace and Nuclear Engineering at UNIST has announced the appointment of two of its alumni as assistant professors at Yeungnam University and Wonkwang University, respectively. Both UNIST alumni, Hyun-Ha Park... Read More