Professor Chajoong Kim and his design team, recognized for its child-friendly IV pole design at the world-renowned iF Design Award 2019.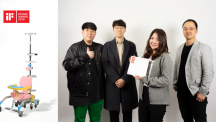 A design team, led by Professor Chajoong Kim in the Graduate School of Creative Design Engineering (CDE) at UNIST has come up with a brilliant child-friendly design idea to help children have fun during their hospital stays. unveiled their... Read More
Winners of iF Design Award 2019: IMON (Prof. Chajoong Kim), stool.D (Prof. Young-Woo Park), and $100 Library (Prof. KwanMyung Kim).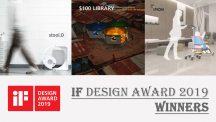 The Graduate School of Creative Design Engineering (CDE) at UNIST has once again been recognized for design excellence, worldwide. They announced that three of their design concepts have been selected as the winners of the iF Design Award 2... Read More