Distinguished Professor Rodney S. Ruoff named among '2018 Citation Laureates' by Clarivate Analytics.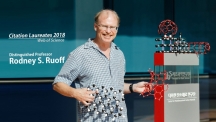 Rodney S. Ruoff, Director of the Center for Multidimensional Carbon Materials (CMCM) at the Institute for Basic Science (IBS) and Distinguished Professor in the School of Natural Science at UNIST, was selected to the 2018 hall of Citation L... Read More
Recent work by Professor Bartosz Grzybowski has been published in the November issue of Advanced Materials.
New method to create dynamic tubular structures, inspired by leaves around a stem, scales on pine cone, and viruses' tails.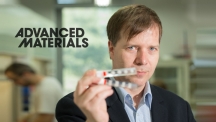 Some of nature's most exquisite patterns; leaves around a plant's stem, scales on a pine cone, and the tail of some viruses, consist of small objects decorating a cylindrical chassis with a specific pattern. Nature's preferred method of bui... Read More