UNIST, KAIST, GIST, DGIST, and POSTECH sign new joint partnership with KODIT on promoting innovative startups.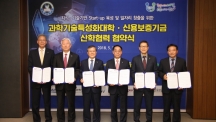 Five of the nation's preeminent research institutions (UNIST, KAIST, GIST, DGIST, POSTECH) have signed a memorandum of understanding (MOU) with Korea Credit Guarantee Fund (KODIT), forging a new partnership to deliver new career oppor... Read More
Creating partnership to support the growth of local SMEs in Ulsan.
Helping local SMEs to expand their businesses globally.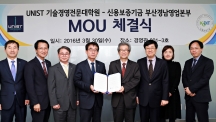 On the afternoon of March 30, UNIST and Korea Credit Guarantee Fund (KODIT) signed a Memorandum of Understanding (MoU), creating partnership to support the growth of local small and medium-sized enterprises (SMEs) in Ulsan. The ceremony was... Read More