Soldi will be displayed at Dubai Design Week between 12-16th of November, 2019.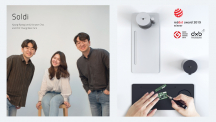 Maker Culture, which can also be called Do-It-Yourself Culture (DIY Culture), is spreading steadily throughout the world. Thus, those industries that provide design tools and DIY kits continue to grow. The same goes for the tools and techno... Read More
Winners of iF Design Award 2019: IMON (Prof. Chajoong Kim), stool.D (Prof. Young-Woo Park), and $100 Library (Prof. KwanMyung Kim).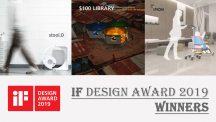 The Graduate School of Creative Design Engineering (CDE) at UNIST has once again been recognized for design excellence, worldwide. They announced that three of their design concepts have been selected as the winners of the iF Design Award 2... Read More