A research team, led by Professor Robert J. Mitchell, in collaboration with Dr. Jin Hyung Lee and Dr. Jinyoung Chun from Korea Institute of Ceramic Engineering & Technology (KICET) pursued a novel bio-application by identifying synthetic conditions to purify biocompatible silicon dioxide (SiO2), also known as silica from rice husks.
Rice husks are agricultural wastes, generated as a by-product of the rice milling process. Around 120 million tons of rick husk is discarded worldwide each year. Studies have shown that rice husk contains approximately 20% SiO2, thus raising the need for further research on rice husk-derived silica.
There has been growing interest in natural biogenic silica nanoparticles (NPs) from rice husks. Therefore, it is important to know how their preparation (i.e., combustion, acid leaching, or alkali extraction) impacts their biocompatibility, noted the research team.
Within this study, the research team evaluated and assessed the toxicities of natural rice husk-derived silica NPs based on the methods used in their purification and preparation, such as combustion, acid leaching, or alkali extraction, and with several different human and mouse cell lines.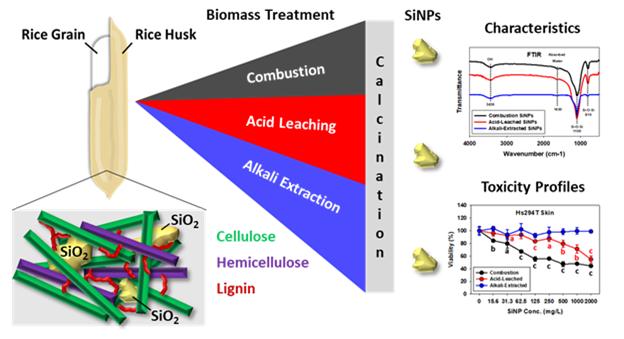 Figure 1. Schematic diagram, showing the synthesis and toxicity evaluation of natural rice husk-derived silica NPs.
The research team found that the presence of residual carbon during the calcination step is a critical factor in determining the final biocompatibility of these silica NPs. Through toxicity testing, they also found that the most effective method to increase their biocompatibility was to employ alkali extraction.
"The findings here highlight the importance of completely removing carbon from biogenic silica to prevent downstream cellular damage and toxicity, an important factor to consider as rice husk-derived silica, or that from other plant species, gains more attention as a renewable and sustainable source for NPs and their preparation," noted the research team.
Journal Reference
Ji Yeon Park, Wonsik Mun, Jinyoung Chun, et al., Alkali Extraction to Detoxify Rice Husk-Derived Silica and Increase Its Biocompatibility, ACS Sustainable Chem. Eng. (2022).