A unique exhibition, showcasing artificial intelligence (AI) talking to aliens will kick off this week.
The exhibition, namely 'Conversational AI for Interstellar Diplomacy v1.0' has been prepared by UNIST faculty startup, Core[dot]Today Inc. in collaboration with Artist Unhappy Circuit. This is the third 'Arts x Tech Collaboration' project by Core[dot]Today Inc. It will take place at the Gallery P1 in Ulsan from April 22 to May 8, 2022.
In this exhibition, the AI algorithm that acquired both English and Korean serves as the official channel for diplomatic communications between the Earth and extraterrestrial planets.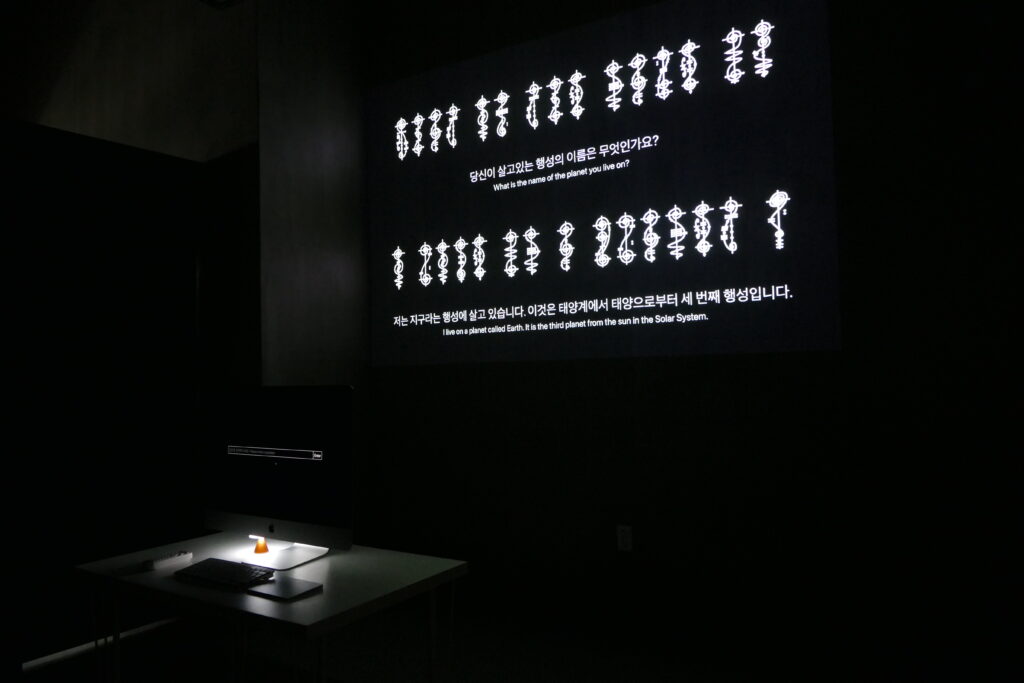 The exhibition is largely composed of a part that explains the principles of exhibition design and a part that visitors can experience. Diagrams drawn on one side of the wall illustrates the design principles. This also serves as a place where visitors can observe and appreciate the conversational AI for interstellar diplomacy at a glance. On the other side of the wall is where you can experience the 'Conversational AI' from the perspectives of extraterrestrial intelligence. Through attempts to change visitors' perspectives from Earthians to extraterrestrial intelligence, we can see ourselves from a new perspective.
Artist Unhappy Circuit and Core[dot]Today Inc. applied the open-sourced 'BlenderBot,' as their 'Conversational AI'. Developed by FAIR (Facebook AI Research), BlenderBot is the largest-ever open-domain chatbot that builds long-term memory and searches the internet. It can communicate without limiting the fields, just as a person talks on a daily basis. Therefore, it provides an experience of empathizing and using knowledge to communicate like a real person.
※ Online Invitation: https://galleryp1.modoo.at/?link=9yxge7te