Abstract
Reversible thiol-disulfide exchange chemistry is of particular interest in drug delivery systems. However, high levels of glutathione (GSH) in cancer cells are hard to distinguish from GSH in normal cells, resulting in unmanageable cytotoxic drug release. This study investigates the spatiotemporally-controlled irreversible degradation of Ir-based photosensitizer (TIr3)-encapsulating nanogels (IrNG) through the hyperoxidation of resulting intracellular thiols using reactive oxygen species (ROS). A highly cytotoxic TIr3 was stably encapsulated within IrNG through hydrophobic interactions and reversible crosslinking between its disulfide bonds and thiols in the absence of light, resulting in high biocompatibility under normal cellular conditions. However, upon photoirradiation, TIr3 generated high levels of ROS, irreversibly oxidizing the thiols to induce electrostatic repulsion between the polymer molecules, resulting in the TIr3 release and induction of cancer cell apoptosis.
A research team, affiliated with UNIST has reported a novel method to safely use the photodynamic therapy (PDT), a treatment that uses a drug activated by light to kill cancer. The new system uses nanogels with enhanced stability and less harmful to the human body, while minimizing side effects.
This breakthrough has been led by Professor Tae-Hyuk Kwon and his research team in the Department of Chemistry at UNIST, in collaboration with the Yonsei University. According to the research team, their findings provide new insights regarding the utilization of highly oxidative ROS to control the irreversible degradation of nanocarriers and the concomitant release of photosensitizers.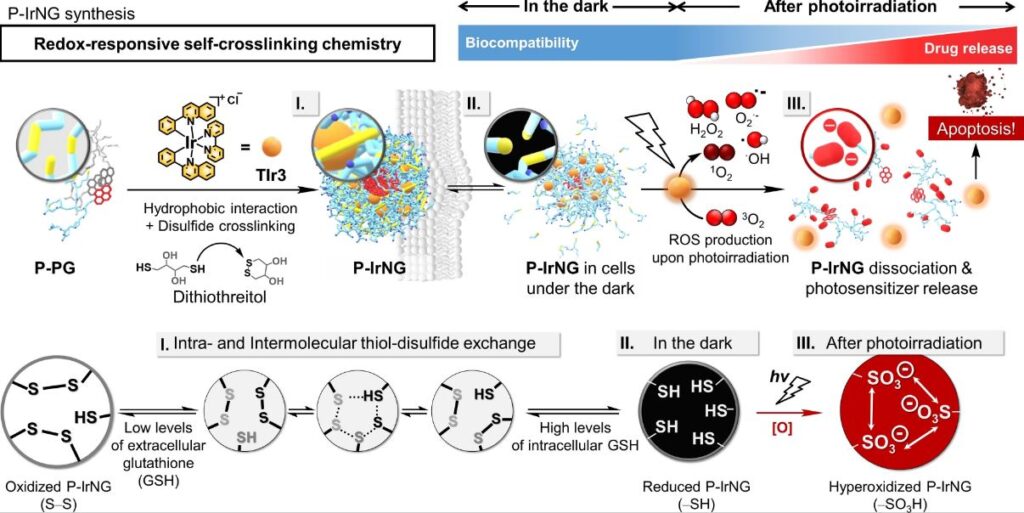 Figure 1. Redox reaction in the P-IrNG system. Synthesis of P-IrNG using dithiothreitol (DTT), P-PG, and TIr3 based on redox-responsive self-crosslinking chemistry. After cellular uptake, the nanogel maintains its structure in the dark, but degrades into polymers and releases TIr3 in cancer cells upon irradiation with light under reductive conditions, resulting in cancer cell apoptosis. Stage I: Intra- and intermolecular thiol-disulfide exchange that leads to self-crosslinking of P-PG to produce P-IrNG. Stage II: Cleavage of disulfide bonds into thiols in the highly reductive environment (2–10 mM of intracellular GSH). Stage III: Irreversible hyperoxidation of thiols to sulfonic acids, which are negatively charged under physiological conditions (pH 7.4) upon photoirradiation.
Their findings have been published online in the September 2022 issue of Angewandte Chemie International Edition, a leading journal for all fields of chemistry. It has been supported by UNIST, the National Cancer Center (NCC), and through the Mid-career Research Grant by the National Research Foundation of Korea (NRF).
Journal Reference
Chae Gyu Lee, Chaiheon Lee, Joonhee Lee, et al., "Dual-Modulated Release of a Cytotoxic Photosensitizer Using Photogenerated Reactive Oxygen Species and Glutathione," Angew. Chem. Int. Ed., (2022), e202210623 (DOI: 10.1002/anie.202210623)