Liver cancer resists most chemotherapy drugs. Even if cancer cells are completely removed, the recurrence rate in patients who have undergone complete surgical resection reaches up to 70%. Despite medical advancements, treating liver cancer is still particularly challenging. We have finally found genetic evidence to combat liver cancer just seven years after coming to Ulsan. This was largely thanks to the collaboration with Ulsan University Hospital.
A recent study, affiliated with UNIST has identified that a gene, called Tonicity-responsive enhancer binding protein (TonEBP) promotes the development and recurrence of liver cancer. Experts say that further research will be needed but the findings could eventually open doors to improving the diagnosis, prognosis, and treatment of liver cancer.
This breakthrough has been led by Professor Hyug Moo Kwon in the School of Life Sciences at UNIST in collaboration with Professor Neung Hwa Park in the Department of Internal Medicine at Ulsan University Hospital (UUH). The team anticipates that their work will have a profound impact on people living with liver cancer, as their research method involves an up-close, in-depth, and detailed examination of hepatic tissue samples obtained from 296 patients at UUH. Their findings have been published in the prestigious BMJ Gut, a leading international journal in gastroenterology and hepatology.
Hepatocellular carcinoma (HCC) is the most common and deadly form of liver cancer. Diverse aetiological agents and wide heterogeneity in individual tumors impede effective and personalized treatment. TonEBP, also known as nuclear factor of activated T cell 5 (NFAT5), is a transcriptional cofactor for the expression of proinflammatory genes. According to the research team, "Although inflammation is intimately associated with the pathogenesis of HCC, the role of TonEBP is unknown". The aim of this study is to provide an in-depth insight on the function of TonEBP in HCC.
In their study, the research team discovered that TonEBP expression was higher in tumors than in adjacent non-tumor tissues in 92.6% of patients with HCC regardless of aetiology associated. Besides, tumors of cancer and surrounding tissues were also found to be associated with recurrence, metastasis and mortality of liver cancer. In particular, it has been found that the principle of hepatocarcinogenesis is the same even if the cause of the disease is various, such as B type virus, C type virus, alcohol, and fatty liver.
"Liver cancer can be difficult to diagnose because symptoms vary from person to person and often do not appear until the disease has advanced," says Professor Kwon. "Through this study, we have unraveled that TonEBP is a key component of the common pathway in tumourigenesis and tumor progression of HCC in response to diverse aetiological insults."
"We are currently investigating the role played by TonEBP in the recurrence of liver cancer, as well as chemotherapy resistance," says Professor Kwon. "If the work is proven to be successful, it will be a breakthrough in the treatment of liver cancer."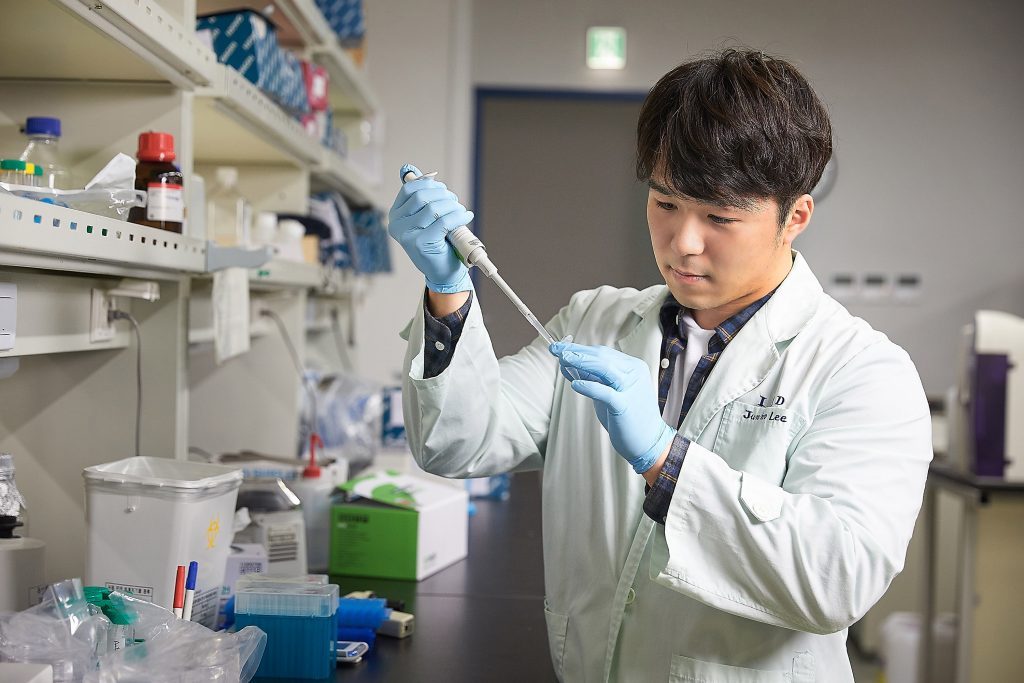 TonEBP was first discovered in 1999 by Professor Kwon when he was working as Associate Professor at the Johns Hopkins University School of Medicine. At that time, Professor Kwon, who won recognition through his research in physiology, identified that TonEBP contributes to the regulation of urine and induces inflammation to fight off infections, caused by virus or bacteria.  
In this study, however, the genetic effect of TonEBP was not found in kidney, but liver. Although the organs are different, their observation was based on the commonality that inflammation is intimately implicated with both kidney and liver. This took Professor Kwon seven years to finally understand.
Jun Ho Lee in the Combined M.S./Ph.D. of Life Sciences at UNIST, the first author of this study has conducted an experiment, which took him nine months to come to fruitation. To find out the role TonEBP plays in liver cancer, he performed animal experiments. Mice were randomly divided into two groups and were gavaged with different amounts of TonEBP expression and caused liver cancer. According to the results from 2014, the smaller number of TonEBP, the smaller the cancer number and the smaller the cancer cell size. This shows that TonEBP drives the development of liver cancer.
In collaboration with Ulsan University Hospital, the team found that TonEBP is involved at multiple steps of the common pathway of HCC development and tumor progression: cell injury, induction by oxidative stress and inflammation.
Besides, they also discovered that the expression of TonEBP is elevated in tumors in more than 90% of patients with HCC regardless of aetiology associated.
"The 296 HCC samples that Professor Neung Hwa Park had surgically removed from patients were more than good enough," says Professor Kwon. "It is such a remarkable data, summarizing the cause of the disease, disease recurrence, metastasis, as well as mortality." He adds, "The success of this research is largely due to the 30 years of research records, pertaining to cancer patients by Ulsan University Hospital."
This study has been supported by the National Research Foundation of Korea, funded by the Ministry of Science and ICT (MSIT), Health Technology R&D Project.
Journal Reference
Jun Ho Lee et al., "Tonicity-responsive enhancer-binding protein promotes hepatocellular carcinogenesis, recurrence and metastasis," Gut, (2018).