The study findings have been published ahead of their official publication in the online version of JACS on September 4, 2023.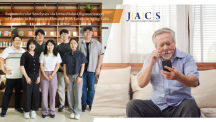 Abstract Senolytics, which eliminate senescent cells from tissues, represent an emerging therapeutic strategy for various age-related diseases. Most senolytics target antiapoptotic proteins, which are overexpressed in senescent cells, limit... Read More
Their findings have been published in the September 2022 issue of Aging Cell.
Abstract Progressive iron accumulation in the substantia nigra in the aged human brain is a major risk factor for Parkinson's disease and other neurodegenerative diseases. Heavy metals, such as iron, produce reactive oxygen species an... Read More