Their findings have been published in the online version of iScience on October 3, 2023.
A groundbreaking technology has been developed to assess the risk of summer heat waves, providing essential data for mitigating risks associated with heat-related illnesses. Professor Jungho Im and his research team in the Department of Civ... Read More
The work by Professor Gi-Hyoug Cho indicates "During Summer, temperatures in Ulsan are 2.5°C higher than rural areas".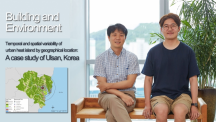 Rising temperatures are threatening urban areas, including Ulsan city due to a regional climate phenomenon, known as the Urban Heat Island (UHI) effect. Therefore, there is an urgent need to implement necessary mitigation measures, such as ... Read More