[ARN MAGAZINE] Professor Hajin Kim developed a way to label specific points in DNA inside living cells with fluorescent probes, using the gene-editing technology CRISPR/ Cas9.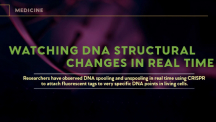 Professor Hajin Kim and his research team in the Department of Biomedical Engineering at UNIST have developed a novel CRISPR-based genome labeling scheme for reliable visualization of genomic elements in living cells. This labeling scheme,... Read More
[ARN MAGAZINE] Professor Yoon-Kyoung Cho's research team introduced a fast spin test for urinary tract infection.
Professor Yoon-Kyoung Cho (Department of Biological Sciences) and her research team from the Center for Soft and Living Matter (CSLM), within the Institute for Basic Science (IBS) at S. Korea's Ulsan National Institute of Science and Techno... Read More