The donation ceremony took place in the Main Administration Building of UNIST on February 24, 2023.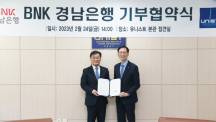 UNIST and BNK Kyongnam Bank recently held a donation agreement ceremony in pursuit of creating a beautiful, biodiverse, and sustainable kitchen garden on UNIST campus. A ceremony to commemorate and display gratitude for BNK Kyongnam Bank al... Read More
UNIST held a completion ceremony of new symbolic landmark on May 25, 2018.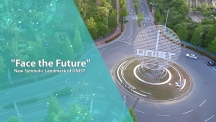 A new symbolic landmark of UNIST has finally been unveiled to the public on May 25, 2018. Special ceremonies were also held to mark the completion of the new landmark, which now stands in the center of the lower traffic circle of UNIST. The... Read More