1,325 graduating students joined a family of over 5,800 UNIST alumni.
After much deliberation, UNIST has decided to move its rescheduled on-campus commencement to a virtual commencement ceremony with no attendees in response to health and safety issues surrounding COVID-19. The virtual ceremony, which took pl... Read More
Beom Kim obtained three granted patents and published 40 patent applications.
Class of 2020, gathered at UNIST Gymnasium for the annual Matriculation ceremony.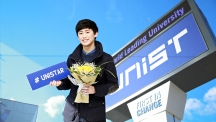 Newly admitted undergraduates and returning students are ready to kick off one of UNIST's biggest events of the year, the 2016 UNIST Matriculation Ceremony. This year's ceremony featured the awarding of students with outstanding entrance sc... Read More