Their findings have been published in Advanced Energy Materials on January 13, 2020.
Colloidal quantum dot (CQD) solar cells have attracted considerable attention due to the advantages of being flexible and lightweight. Besides, they are much easier to manufacture, compared with that of commercial silicon solar cells in use... Read More
A national merit in recognition signifies important R&D contributions.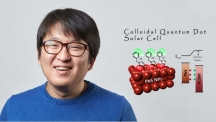 Gi Hwan Kim, a doctoral graduate of the School of Energy and Chemical Engineering of UNIST, has been designated as a national merit in recognition of his significant contribution to the 2015 Energy International Joint Research Project. Dr.... Read More