The 2022 edition of CWTS Leiden Ranking puts UNIST in the top spot among S. Korean universities, and No. 121 globally.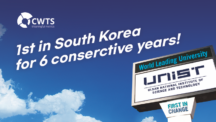 UNIST has maintained its position as South Korea's No. 1 university for the sixth successive year, according to this year's CWTS Leiden Ranking that weighs how many of an institution's scientific publications are widely ci... Read More
UNIST retains its position as Korea's top university and 52nd worldwide in 2018 CWTS Leiden Ranking.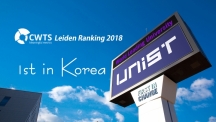 UNIST has maintained its position as the top university in South Korea, according to the latest CWTS Leiden Ranking, released on May 17, 2018. This is the second consecutive year that UNIST has been crowned the top university in South Korea... Read More