The course completion ceremony of AI Novatus Academia took place at UNIST AI Innovation Park on June 25, 2021.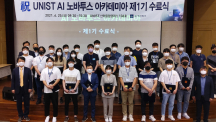 On June 25, UNIST celebrated the students who have completed the first term of its AI Novatus Academia certification program and recognized their achievements throughout their journey at UNIST. A total of 36 trainees were presented with cer... Read More
A group of students from Professor Junghye Lee ‧ Professor Sungbin Lim's laboratories won 3rd place at the 2020 LG AI Hackathon!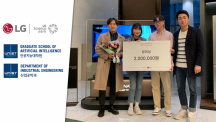 A group of students, affiliated with the Graduate School of Artificial Intelligence and the Department of Industrial Engineering at UNIST distinguished themselves at the 2020 LG AI Hackathon. The team Lab Fairy, made up of Yejin Kim, Jaeho... Read More