The signing ceremony of MoU between UNIST and LG U+ took place on August 25, 2021.
On August 25, UNIST signed a Memorandum of Understanding (MoU) with Korean telecommunications operator, LG U+ to jointly design and develop innovative solutions for smart healthcare. With the launch of Smart Healthcare Research Center in Ma... Read More
A new study, affiliated with UNIST confirms that targeting SnCs could treat age-related degenerative joint disease.
Their findings appeared in the world renowned medical journal, Nature Medicine (IF: 30.357).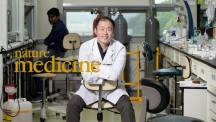 A recent study, led by an international team of researchers confirms that targeted removal of senescent cells (SnCs), accumulated in many vertebrate tissues as we age, contribute significantly in delaying the onset of age-related pathologie... Read More