[JoongAng Ilbo's 2021 University Assessment]: UNIST, in terms of citations, ranked No. 1 in both fields of engineering and natural science.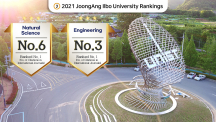 UNIST continues to remain as one of South Korea's top institutions, according to the JoongAng Ilbo's comprehensive university rankings for 2021. On November 11, JoongAng Ilbo has announced the results for this year's JoongAng Ilbo Uni... Read More
[JoongAng Daily's 2016 University Assessment]: Fourth place for Natural Science and seventh place for Engineering.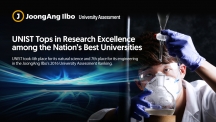 UNIST continues to be recognized as an elite engineering and science school and one of the top institutions in the nation, according to the JoongAng Daily Comprehensive University Assessment Ranking for 2016. According to the assessment tea... Read More