Their findings have been published in the September 2022 issue of Aging Cell.
Abstract Progressive iron accumulation in the substantia nigra in the aged human brain is a major risk factor for Parkinson's disease and other neurodegenerative diseases. Heavy metals, such as iron, produce reactive oxygen species an... Read More
The ceremony to mark the opening of the new research center took place on March 26, 2021.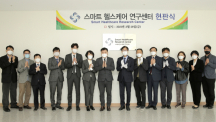 Research on digital healthcare with a particular focus on the management of occupational accidents and illnesses, will begin in earnest in the Ulsan region. On March 26, UNIST held a ceremony to mark the official launch of the UNIST Smart H... Read More