Winners of iF Design Award 2019: IMON (Prof. Chajoong Kim), stool.D (Prof. Young-Woo Park), and $100 Library (Prof. KwanMyung Kim).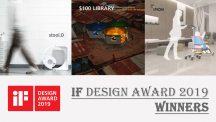 The Graduate School of Creative Design Engineering (CDE) at UNIST has once again been recognized for design excellence, worldwide. They announced that three of their design concepts have been selected as the winners of the iF Design Award 2... Read More
Professor Yunwoo Jung's design team receives the 2016 iF Design Award.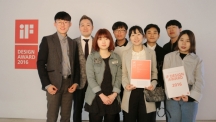 UNIST's design school has again been recognized worldwide for producing high quality and cutting-edge design products. This includes recent achievements by a UNIST design team, led by Professor Yunwoo Jung from the School of Design an... Read More