Their findings have been published in Nature Sustainablity on April 10, 2020.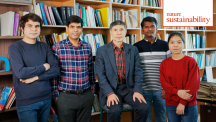 A novel catalyst synthesis method, capable of generating hydrogen from yeasts, the main microorganisms involved in alcohol and bread fermentation, has been developed. The new system can efficiently decompose water into oxygen and hydrogen,... Read More
Their findings published in the recent issue of the journal Nature Nanotechnology.
UNIST scientists have developed an exiting new catalyst that can split water into hydrogen almost as good as platinum, but less costly and found frequently on Earth. As described in the journal Nature Nanotechnology, this ruthenium (Ru)-bas... Read More