Their findings have been published in the January 2021 issue of Remote Sensing of Environment.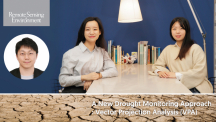 A team of researchers, affiliated with UNIST has proposed a satellite-aided drought monitoring method that can adequately represent the complex drought conditions into a single integrated drought index. The newly-proposed drought index has... Read More
CheolHee Yoo (Department of Urban and Environmental Engineering) honored with the 2020 Talent Award of Korea.
CheolHee Yoo (Combined MS/Ph.D. in the Department of Urban and Environmental Engineering, UNIST) has been honored with the 2020 Talent Award of Korea. The Talent Award of Korea is an award bestowed by the Deputy Prime Minister and Minister... Read More