The work by Distinguished Professor Steve Granick and Professor Oh-Hoon Kwon has been published in ACS Nano.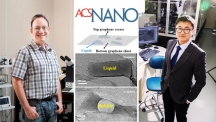 Since life is mostly based on water, our molecules are moving, vibrating and somersaulting in a liquid environment. But electron microscopy—a technique to study a static version of this nano world—has been almost impossible to use to see mo... Read More
UNIST signs MOU with JEOL to improve the thermal stability of Li-ion batteries and associated components.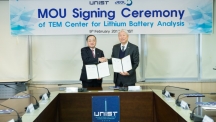 Earlier today, UNIST signed a Memorandum of Understanding (MOU) with JEOL Ltd., Japan's leading manufacturer and supplier of a wide range of scientific and analytical instruments. This collaboration represents a significant commitment... Read More