UNIST signed MOU with UCSD, City of San Diego, and Ulsan City in furtherance to their mutual understanding to collaborate in the area of intelligent transportation sector.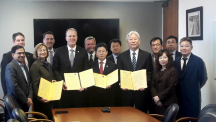 A Memorandum of Understanding (MoU) on scientific, technical, economic, and industrial cooperation was signed amongst UNIST, University of California San Diego (UC San Diego), the City of San Diego, and Ulsan Metropolitan City on March 1, 2... Read More
UNIST and UCSD sign cooperation MoU to support startups and technology commercialization.
UNIST also partners with LIT to help UNIST to enter international markets.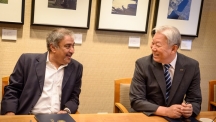 On August 12, 2016, UNIST and the University of California, San Diego (UCSD) signed a Memorandum of Understanding (MoU) to pledge mutual support for one another in the advancement of research that will benefit our global society. The ceremo... Read More