The 2021 UNIST Virtual Commencement Ceremony took place on Thursday, February 18, 2021.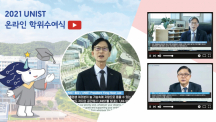 As COVID-19 cases surge in Ulsan with no clear ending in sight, UNIST has decided to hold a virtual commencement ceremony for the Class of 2021. Instead of the usual in-person graduation, the pre-recorded online celebration has been broadca... Read More
Yechul Shin of Urban and Environmental Engineering receives Best Paper Award from Korean Meteorological Society.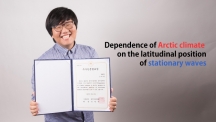 Yechul Shin, a graduate student of Urban and Environmental Engineering at UNIST, recently received the Best Paper Award from the Korean Meteorological Society (KMS). In his paper, entitled "Dependence of Climate Reponse to Arctic Warm... Read More