A product design that combines sustainable eco-friendly energy research and innovative thinking has been developed. It targets vulnerable children in the third world. Such research collaboration within universities has opened the way to help people who are struggling with water and electricity shortage.
A research team, jointly led by Professor Chajoong Kim (School of Design and Human Engineering, UNIST) and Professor Youngsik Kim (School of Energy and Chemical Engineering, UNIST) has developed a seawater desalination equipment, namely Aquasis using the mechanism of seawater battery. Besides, their product design has been awarded an iF Design Award in the professional concept discipline, this March.
Aquasis is a seawater desalination kit that is powered by a seawater battery. It is designed particularly for those living near the coast, yet affected by water scarcity. Portable water filtration devices, like LifeStraw® water filters, have been developed and distributed for children struggling to survive without safe water throughout the world. Although seawater desalination appears to be the solution for the water crisis, it takes more energy and money than either wastewater.
Aquasis turns ocean water into drinkable fresh water, using the mechanism of seawater battery. Seawater batteries, which use sodium ions from the seawater to generate electricity, can freshen seawater during the charging process. The upper module of Aquasis is equipped with solar panels to fill the seawater battery with energy from the sun for later use. With this stored solar energy, Aquasis turns seawater into drinking water and provides power throughout the night.
Their product design is expected to be of great help to the health of young children in developing countries who are at high risk of waterborne diseases, as it can provide access to a safe and continuous supply of clean water for both drinking and personal hygiene purposes. Besides, it is compact and lighweight so that children can easily fetch seawater from the ocean. Not only that, it can serve many purposes, ranging from a water purifier during the day, a water bottle in the afternoon, and a portable light at night.
Aquasis is especially special, as it combines both UNIST's original technology and design capabilities. Professor Youngsik Kim (Participating researcher: Moonee Kim) who boasts the source technology of seawater battery has been collaborating with Professor Chajoong Kim's design team (Participating researchers: Kwangmin Cho, Sanghyun Ma) to commercialize the technology over the last year.
"Aquasis is the result of research collaboration with a special focus on the sustained well-being of children, especially the most vulnerable," says Professor Kim. "Aquasis is particularly meaningful, as this is an example of turning UNIST's source technology into a commercial product that ultimately contributes to society through design."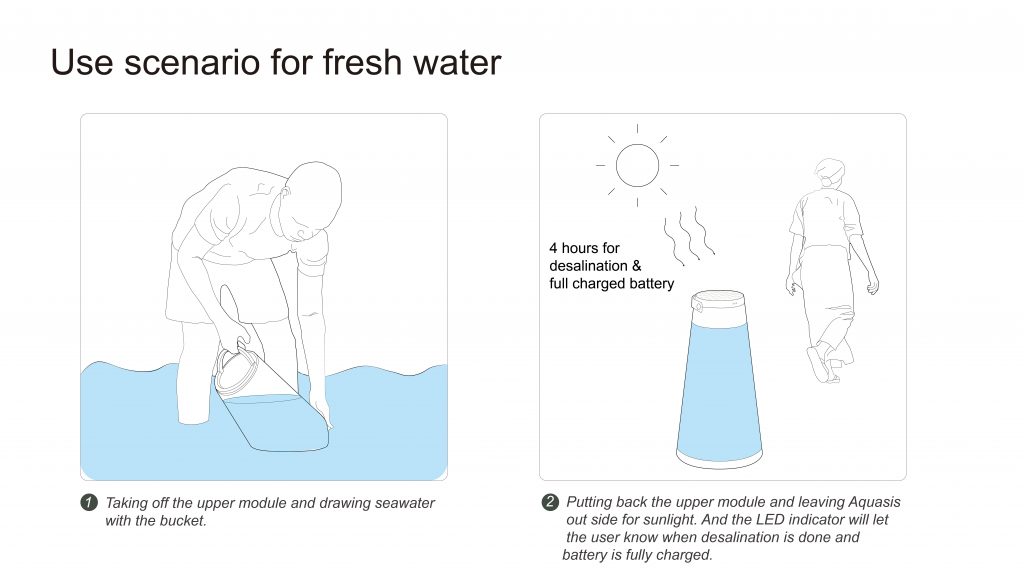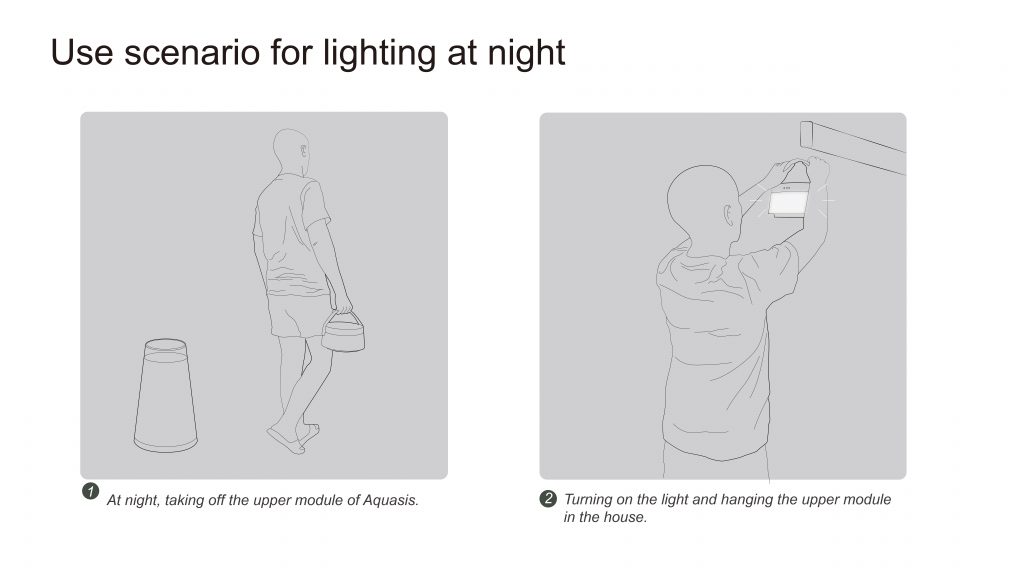 The researchers are collaborating to commercialize Aquasis with the goal of developing and launching an actual product. In addition to this, they plan on developing a variety of other products, utilizing seawater battery technology, and thus commercializing them through the UNIST faculty startup, 4 To One Co., Ltd.
Since 2016, Professor Chajoong Kim's strong design ability has been recognized through many successful entried in national and international design competitions, including iF Design Award and Spark Design Award. He has been steadily carrying out design projects that focus on social coexistence, with the goal of improving the wellbeing of socially disadvantaged children, such as long-term hospitalized children, elderly patients, visually impaired, and children in the developing countries.
Established in 1953, the iF Design Award is recognized around the world, as one of the most prestigious awards for innovative industrial product design excellence, along with Germany's Red Dot Award and IDEA. This year, more than 7,000 works from 56 countries around the world were exhibited.