Researchers from the Department of Urban and Environmental Engineering at UNIST are continuously making academic progress. They have been selected as winners of various conference awards presented by the Korean Association of Geographic Information Studies (KAGIS).
The association recently announced the winners and held an award ceremony at the 2021 KAGIS General Meeting and Autumn Conference, which took place in Jeju on November 6, 2021.
The list of winners of the conference included a large number of researchers from the Department of Urban Environmental Engineering. Professor Jungho Im won the highest honor, the Scholar Award, while Professor Im's students, Sumin Park won the Young Researcher Award. Taejun Sung, Sanghyeon Song, and Dukwon Bae from Professor Im's laboratory also won the Excellence Paper Award. Besides, Professor Jeongseob Kim's student, Jung Seok Seo and Professor Gihyoug Cho's student Suhyun Shin were presented with the Excellence Paper Award.
Professor Im has been given the Scholar Award for his recent study on monitoring natural disasters through the spatial data convergence. He has been monitoring and predicting various natural disasters that are affected by climate change, such as such as heat waves, fine dust, drought, typhoons, and heavy rains based on space-based information, calculated from satellite remote sensing and numerical modelling. During the process, basic artificial intelligence (AI) techniques and deep-learning technology are also applied to improve the performance in terms of accuracy.
Young Researcher Awards are presented to emerging researchers who have less than 2 years after having obtained the doctoral degree. Sumin Park from Professor Im's laboratory has been given this honor at this year's KAGIS General Meeting and Autumn Conference. Her specialized research fields are drought monitoring and prediction.
Researchers Taejun Sung and Sanghyeon Song from Professor Im's laboratory each won the Excellence Paper Award for presenting a research on water quality monitoring algorithms in coasts of Korean Peninsula, using the Forel-Ule Index, as well as a study on the assessment of fine particulate matter concentration based on geostationary orbit satellite. Dukwon Bae from the same laboratory also won the Excellence Paper Award for presenting a new methodology for obtaining ground temperature, which is an essential basic data for climate and meteorological research.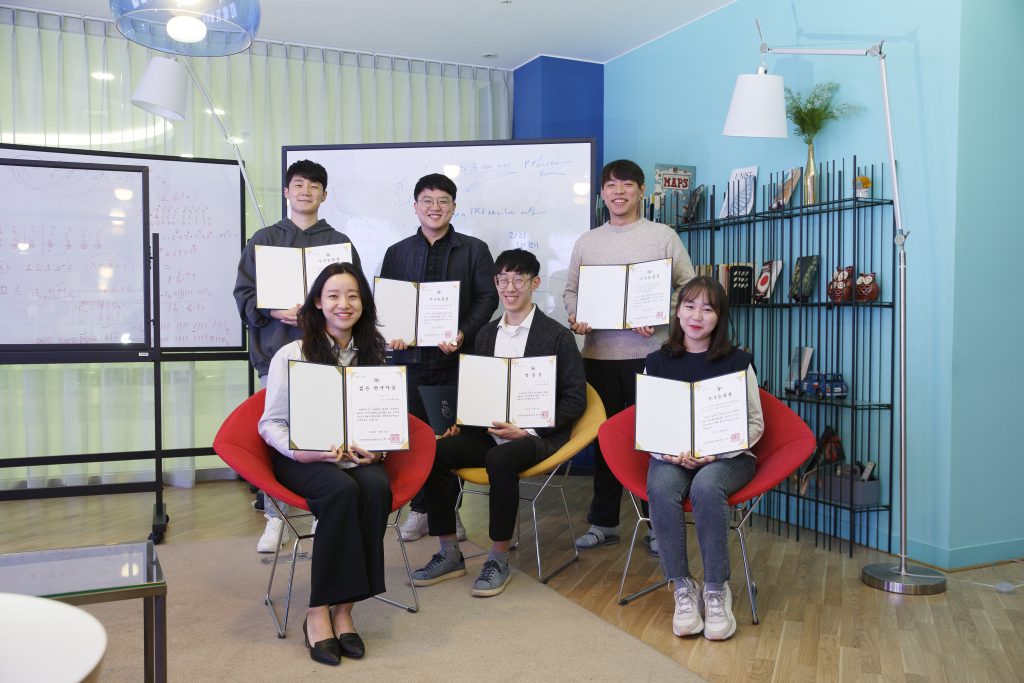 Spatial geographic information is used not only for predicting and monitoring natural phenomena, such as weather disasters and climates, but also for urban planning, management, and disaster prediction.
Jung Seok Seo from Professor Jeongseob Kim's laboratory won the Excellence Paper Award for analyzing the impact of the 2017 Pohang earthquake on the start-up and closure of the retail industry. The final goal is to develop a spatial quantification model that can monitor socioeconomic damage caused by disasters. Suhyun Shin from Professor Gihyoug Cho's laboratory also won the Excellence Paper Award for her recent research on building energy consumption by urban development type. The study analyzes the correlation between green space distribution patterns and energy consumption in urban buildings.
Meanwhile, the Korean Geographic Information Society was founded in 1997 and aims to cooperate with each other in geographic information academic theory and practical research. Geographic information is the study of collecting data from space and regions, which are the basis of life, and processing them usefully.