Abstract
Most state-of-art models project a reduced equatorial Pacific east-west temperature gradient and a weakened Walker circulation under global warming. However, the causes of this robust projection remain elusive. Here, we devise a series of slab ocean model experiments to diagnostically decompose the global warming response into the contributions from the direct carbon dioxide (CO2) forcing, sea ice changes, and regional ocean heat uptake. The CO2 forcing dominates the Walker circulation slowdown through enhancing the tropical tropospheric stability. Antarctic sea ice changes and local ocean heat release are the dominant drivers for reduced zonal temperature gradient over the equatorial Pacific, while the Southern Ocean heat uptake opposes this change. Corroborating our model experiments, multimodel analysis shows that the models with greater Southern Ocean heat uptake exhibit less reduction in the temperature gradient and less weakening of the Walker circulation. Therefore, constraining the tropical Pacific projection requires a better insight into Southern Ocean processes.
Scientists attribute natural disasters, such as droughts and floods to the La Niña phenomenon. This is due to changes in air flow influenced by high and low pressure arrangements caused by water temperature structures in the tropical Pacific, impacting regions globally. Recent research on tropical Pacific sea surface temperature (SST) warming patterns that determine global climate has garnered significant attention.
Professor Sarah M. Kang and her research team at UNIST's Department of Urban and Environmental Engineering, along with researchers from POSTECH, Scripps Institution of Oceanography, Cornell University, and Duke University identified climate change factors affecting Pacific SST patterns due to carbon dioxide (CO2) level increases. Analysis confirms high-level climate change significantly impacts these patterns.
Previous studies suggested different mechanisms for understanding changes in the Pacific SST pattern. For example, it has been confirmed that global warming-induced high-altitude sea ice decrease increases tropical East Pacific temperatures. However, determining causal relationships between these changes has been challenging due to various factors such as marine circulation and greenhouse effects beyond sea ice reduction.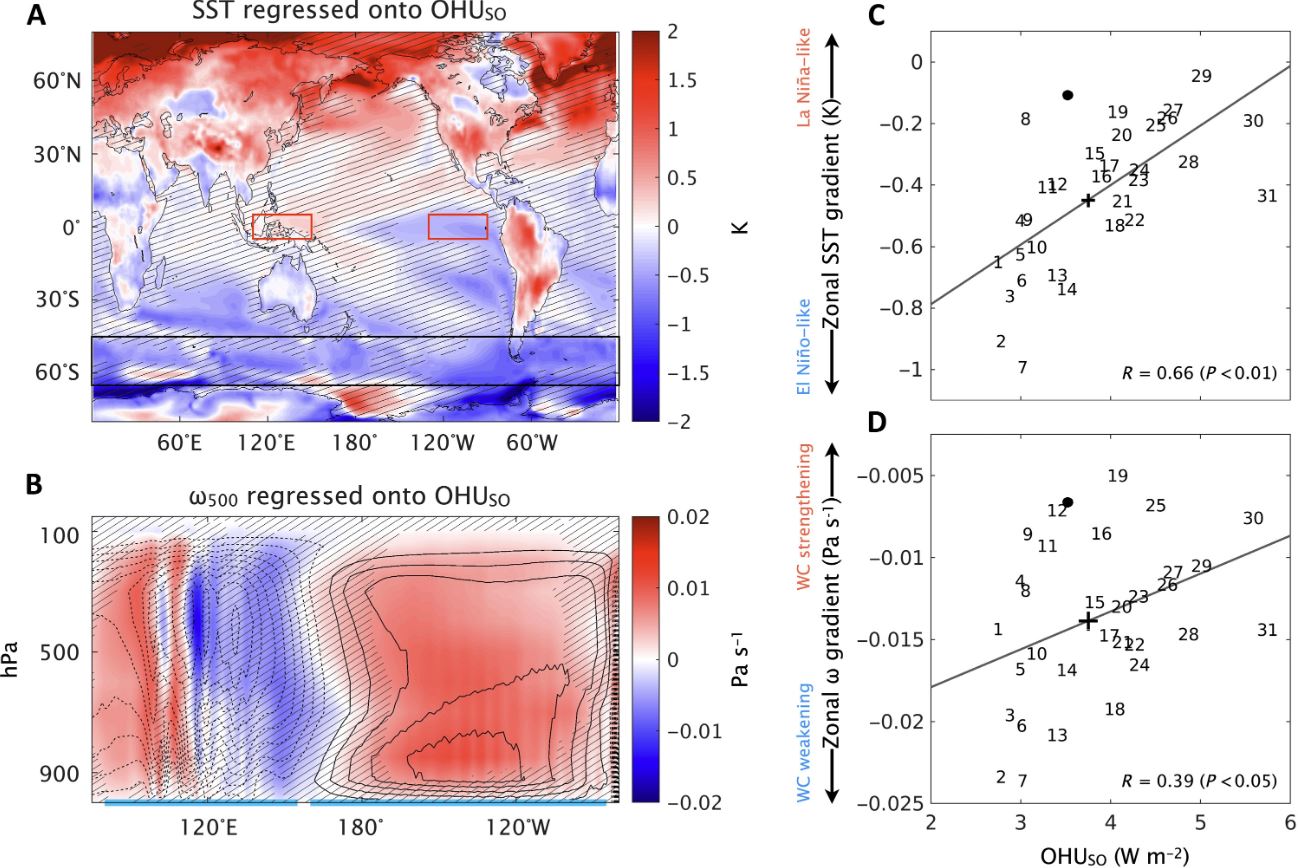 Fig. 4. CMIP6 inter-model regression. (A) Global mean removed SST response and (B) equatorial Pacific pressure velocity response, regressed onto Qnet changes averaged between 45°S and 65°S (OHUSO) for 31 CMIP6 abrupt-4xCO2 simulations (model lists in table S1). The regression coefficients are multiplied by two inter-model SDs of Qnet changes to represent the inter-model discrepancies. The regions with the response insignificant at 95% confidence level based on the two-sided t test are hatched. Scatterplot of OHUSO against (C) the equatorial Pacific zonal SST gradient and (D) the Walker circulation index. Models are numbered in the ascending order of the amplitude of Southern Ocean heat uptake. The plus symbol indicates the CMIP6 MMM and the black closed circle indicates our FULL response. The comparison is made by simply halving the CMIP6 responses between 21 and 70 years after an abruptly quadrupled CO2 as our FULL experiment is forced by a CO2 doubling.
Professor Kang's team used the Climate system model to determine causal relationships in Pacific SST pattern changes. The team first simulated global climate changes due to increased CO2 and identified factors individually affecting Pacific SST patterns such as reduced sea ice area and altered marine circulation. These were then applied to quantitatively classify climate change factor effects on the Pacific SST pattern, confirming that it is just as sensitive to high-level climate change as regional tropical ocean changes. Decreased Arctic and Antarctic sea ice warms the tropical eastern Pacific, while cooling of this region is mainly caused by Antarctic ocean circulation.
This study garners attention because it does not simulate current Pacific SST patterns observed in climate models. Although carbon dioxide increases evenly globally, over the past 50 years, eastern Pacific temperatures have relatively decreased while western Pacific temperatures increased. However, existing climate models uniformly simulate water temperature differences between east and west. As tropical Pacific SST patterns can control Earth's average temperature with increasing CO2 concentrations, actual observations of Pacific SST patterns and model information deviation may undermine climate outlook reliability.
The research findings have been published in the May 2023 issue of Science Advances. This study has been supported by the Research Program for the carbon cycle between oceans, land, and atmosphere of the National Research Foundation (NRF) funded by the Ministry of Science and ICT (MSIT). It has been also supported by the postdoctoral research fellowship of POSTECH Initiative for fostering Unicorn of Research & Innovation (PIURI) project, and by the National Science Foundation.
Journal Reference
SARAH M. KANG, YECHUL SHIN, HANJUN KIM, et al., "Orai1 is an Entotic Ca2+ Channel for Non-Apoptotic Cell Death, Entosis in Cancer Development," Sci. Adv., (2023).