"Thank You for Your Endless Support and Encouragement."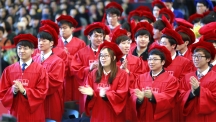 Each February, UNIST confers honorary, graduate, and undergraduate degrees on Commencement day, the culmination of a campus-wide celebration. Today is a day of pageantry, celebration, and ceremony, as UNIST holds its Commencement ceremony.... Read More
"Take the time to reflect on what you've done and relish in your accomplishment."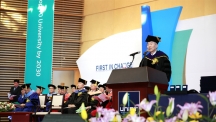 The 2015 UNIST Commencement Ceremony held in Gymnasium at midday on Tuesday, February 24. This ceremony was open to families and the general public and included representatives of all degree recipients. The ceremony featured the conferral o... Read More