Graduation is not an end, but a new beginning.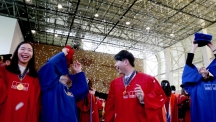 Today, is a day of pageantry, celebration, and ceremony, as UNIST holds its Commencement in the UNIST Gymnasium. This was the first graduation since the recent status change of UNIST as a government-funded research institute. It was open to... Read More
President Mooyoung Jung offers advice to new graduates:
"Don't be afraid to dream big, but remember that dreams without goals are just dreams."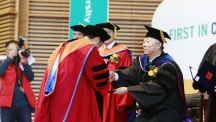 At the 2016 UNIST Commencement Ceremony, President Mooyoung Jung emphasized the importance of being humble and being able to relate to others because today's society wants outstanding individuals who can communicate and cooperate with... Read More