Prof. Jeong Min Baik's team presents a new paradigm for scavenging large-scale energy.
Developing a new power generating device via the principles of lightning strikes.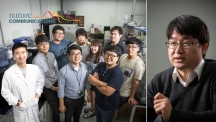 A single bolt of lightning produces a relatively large amount of energy in a short period of time. An international team of researchers, affiliated with UNIST has recently developed a new type of power generating device through the principl... Read More
Prof. Jung-Min Kee, Prof. Kyudong Choi, and Prof. Kwanpyo Kim are the recipients of the 8th Chung-Am (TJ Park) Science Fellowship.
Recognizing potential groundbreaking researchers in their respective fields.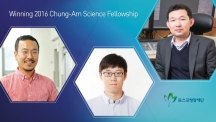 Three UNIST professors have been selected to receive 2016 Cheong-Am (TJ Park) Science Fellowship from the POSCO TJ Park Foundation. Kwanpyo Kim, Jung-Min Kee, and Kyudong Choi are among 31 early career scientists and researchers from 12 org... Read More