The work by Professor Jang-Ung Park has been published in the recent issue of Nature Communications.
His research team developed a transistor-type active-matrix pressure sensor using foldable substrate and air-dielectric layer.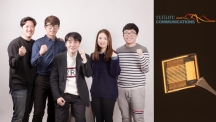 A recent study, affiliated with UNIST has created a three-dimensional, tactile sensor that could detect wide pressure ranges from human body weight to a finger touch. This new sensor with transparent features is capable of generating an ele... Read More
Professor Joonbum Bae wins 100 million won in research funds at the 2017 Future Growth Engine: Challenge Demo Day.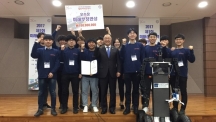 A research team, led by Professor Joonbum Bae of Mechanical, Aerospace and Nuclear Engineering has recently been honored by the Minister of Science, ICT and Future Planning (MSIP) of Korea. Professor Bae and his research team received the M... Read More