Professor Chajoong Kim's design team honored with 2018 iF Design Award.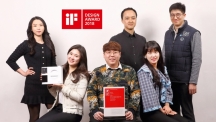 The Graduate School of Creative Design Engineering at UNIST has once again received global recognition for its design excellence at the 65th annual iF Design Award, held in Munich, Germany on March 9, 2018. This breakthrough comes from a re... Read More
Dr. Hyojung Lee, who recently completed her Ph.D. at UNIST, has been appointed as an Assistant Professor at Hokkaido University.
Hyojung Lee, who completed her Ph.D. in the Department of Mathematical Sciences at UNIST, has recently been appointed as an Assistant Professor in the Department of Hygiene at Hokkaido University in Japan, beginning March 16, 2018. "M... Read More