The conferment ceremony was held in the Kyundong Hall of Main Admin. Bldg. at UNIST on November 6, 2018.
A special lecture by Dr. Fawwaz Habbal will be also held at UNIST on November 7, 2018.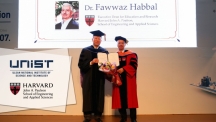 UNIST has announced that it has conferred an honorary doctorate degree to Dr. Fawwaz Habbal, Executive Dean for Education and Research at the Harvard John A. Paulson School of Engineering and Applied Sciences (SEAS). This was the first hono... Read More
The completion ceremony of FPC@UNIST was held alongside the signing of two separate MoU on November 7, 2018.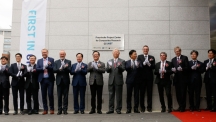 In the afternoon of November 7, UNIST held a grand opening celebration to commemorate the completion of Fraunhofer Project Center for Composites Research@UNIST (FPC@UNIST), the Korean branch of Fraunhofer Institute for Chemical Technology (... Read More