The plaque presentation ceremony was held in the Main Admin. Bldg. of UNIST on June 3, 2021.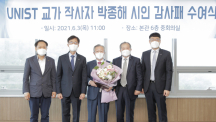 On June 3, UNIST delivered a plaque of appreciation to the poet Jong-hae Park to show appreciation for writing the lyrics for its official school song. UNIST's official song was produced in 2009, prior to the official opening of UNIST... Read More
UNIST student volunteers engage in external volunteering activities, as part of the Ulju i4.0 Mentoring program.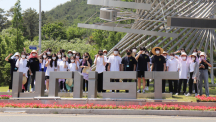 On May 29, a group of UNIST students gathered at the access road to UNIST to engage in external volunteering activities, as part of the Ulju Industry 4.0 (i4.0) Mentoring program. The Ulju i4.0 Mentoring is a tiered mentoring program that l... Read More