From Student to Professor: Heein Yoon returns to her alma mater as professor of electrical engineering.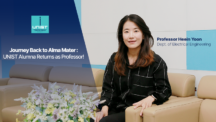 It's my honor and pleasure to be part of UNIST as a faculty member. The last time Heein Yoon ('19) was a part of the Electrical Engineering program at UNIST was when she was a student, pursuing a doctoral degree under the guidan... Read More
Dr. Min Ho Lee, 2020 Ph.D. graduate from UNIST, has recently been appointed as a research engineer at Kairos Power.
I am thrilled to begin the next chapter of my career with Kairos Power. I would like to return what I have received throughout my academic years at UNIST. Min Ho Lee, a former graduate from the Department of Nuclear Engineering at UNIST has... Read More