Their findings have been published in the October 2022 issue of Science Advances.
A joint research team, affiliated with UNIST has unveiled a next-generation patterning technique for the production of perovskite nanocrystal displays which are ultra-thin and high-resolution. The production involves a very simple stamping-... Read More
The 2022 U-Challenge Festival took place in the Main Admin. Bldg. of UNIST on November 18, 2022.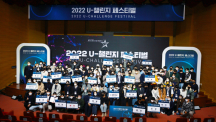 The 2022 U-Challenge Festival, showcasing the research outcomes of science and engineering students who have themselves to contribute to the innovation-led growth in the Ulsan regions, took place on November 17, 2022. This event, which high... Read More