Their findings have been published in the June 2022 issue of Nature Communications.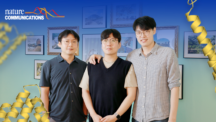 Abstract The endoplasmic reticulum (ER)-mitochondria contact site (ERMCS) is crucial for exchanging biological molecules such as phospholipids and Ca2+ ions between these organelles. Mitoguardin-2 (MIGA2), a mitochondrial outer membrane pro... Read More
Their findings appear in the October issue of the scientific journal, PNAS.
A team of researchers, affiliated with UNIST has identified a new intracellular trafficking pathway of phospholipids. This pathway serves as a tunnel through which lipids are transported at inter-organellar membrane contact sites (MCSs). Th... Read More