The 2023 New Student Orientation Welcome Ceremony took place from February 20 to 23, 2023.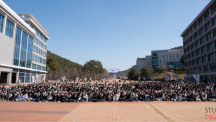 UNIST welcomed the Class of 2027 on February 20, 2023, with a traditional ceremony for all new undergraduate first-year, transfer, and exchange students. New Student Orientation has been designed to introduce the wide array of academic, int... Read More
The 2023 Matriculation Ceremony, which held in UNIST Gymnasium, welcomed 443 freshmen.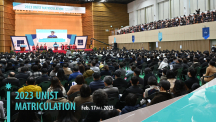 Newly admitted undergraduates and returning students are ready to kick off one of UNIST's biggest events of the year, the 2023 UNIST Matriculation Ceremony. In the afternoon of February 17, inside the UNIST Gymnasium at was charged wi... Read More