UNIST New Center has selected the top 10 news stories of 2018 based on the number of page views.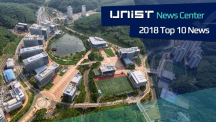 As always, UNIST continued to move towards its dream of becoming "World-leading university to advance science and technology for the prosperity of humankind". The year 2018 has been especially successful and full of inspiring ne... Read More
Dr. Hyojung Lee, who recently completed her Ph.D. at UNIST, has been appointed as an Assistant Professor at Hokkaido University.
Hyojung Lee, who completed her Ph.D. in the Department of Mathematical Sciences at UNIST, has recently been appointed as an Assistant Professor in the Department of Hygiene at Hokkaido University in Japan, beginning March 16, 2018. "M... Read More