Their findings have been published in Angewandte Chemie, the leading international chemistry journal.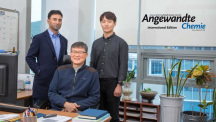 Hydrogen is the lightest and the most abundant element in the universe. It is also a clean-burning fuel in that when combined with oxygen in a fuel cell, it produces no harmful byproducts upon combustion. Indeed, the only byproducts, genera... Read More
Their findings published in the recent issue of the journal Nature Nanotechnology.
UNIST scientists have developed an exiting new catalyst that can split water into hydrogen almost as good as platinum, but less costly and found frequently on Earth. As described in the journal Nature Nanotechnology, this ruthenium (Ru)-bas... Read More