Their findings have been published in Physical Review Letters on October 17, 2019.
The combination of nanoparticles and polymers within a material, allows the development of composite materials with desired properties. Plastics, made from polymers, are generally lightweight, yet tend to be brittle and easy to break. This... Read More
UNIST received 1 Gold, 6 Silver, and 2 Special awards at the 25th Samsung Humantech Paper Awards ceremony.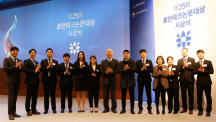 Thirteen UNIST students have been recognized for their excellence in academic and research work at the 25th Annual International Samsung Human-Tech Paper Awards ceremony. This year's award ceremony took place in Samsung Electronics Se... Read More