A recent study, affiliated with UNIST has presented a novel catalyst for use in fuel cells which generate electricity by causing a chemical reaction between hydrogen and oxygen in the air. The new catalysts with triple perovskites structure are expected to contribute to the commercialization of 'reversible fuel cells' because they show excellent performance in electrolysis of water.
This study has been led by Professor Sang Hoon Joo in the School of Energy and Chemical Engineering at UNIST in collaboration with Professor Jun-Young Park from Sejong University. The findings of this study have been published in Science Advances on June 15, 2018.
In the study, the research team has engineered a high-performance oxygen electrocatalyst based on a triple perovskite, Nd1.5Ba1.5CoFeMnO9−δ (NBCFM), which shows superior activity and durability for oxygen electrode reactions to single and double perovskites.
Fuel cells cause a chemical reaction between hydrogen and oxygen in the air to produce electricity. They are also regarded as a potential clean energy technology, as their only emission is water. In addition, by running a fuel cell in reverse, it is also possible to generate hydrogen and this is known as regenerative fuel cell system (RFCS). A regenerative fuel cell or reverse fuel cell (RFC) is a fuel cell run in reverse mode, which consumes electricity and chemical B to produce chemical A. Recently, this has been getting attention as one of the most promising hydrogen production approaches for the hydrogen economy.
The performance of RFCs depends largely on the activity and durability of the catalyst that promote the oxygen electrode reactions. Currently, the precious metals such as platinum (Pt) and iridium (Ir) are used as catalysts in fuel cells. These materials have limitations in terms of price and long-term stability. Also, there is a problem that the reactivity is weak to be used as a catalyst for a reversible fuel cell.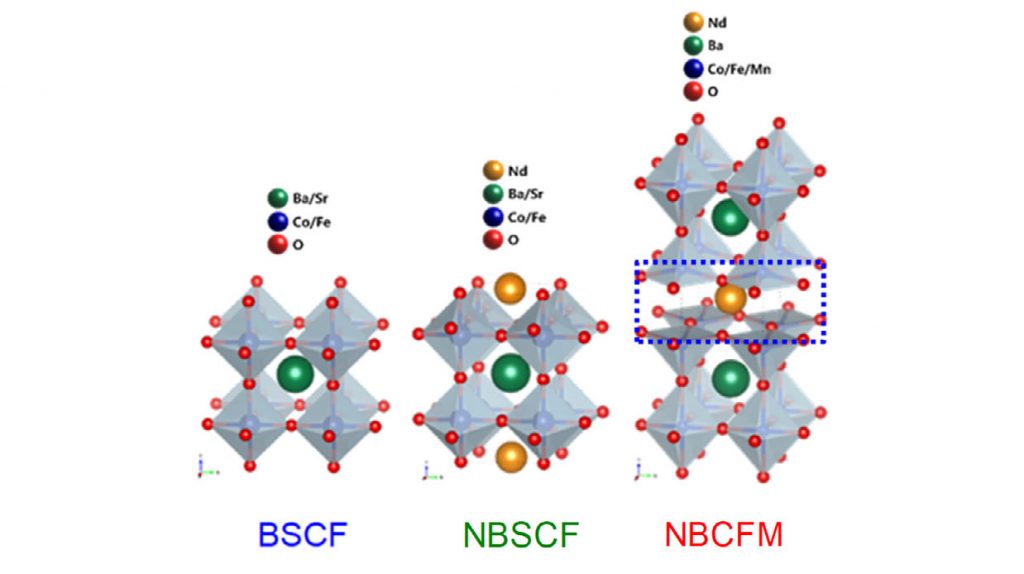 The joint research team has developed a metal oxide (NBCFM) with a triple layer perovskite structure as a catalyst to replace platinum-based noble metals. Perovskite is an organic-inorganic-halogen (AMX₃) compound with a crystalline structure such as calcium titanate (CaTiO₃), which has been studied extensively as a fuel cell catalyst. In the perovskite structure, A and M are metal cations and X is an anion containing a halide or an oxide.
The newly-developed triple layer perovskite exhibited better catalytic activity and durability than single layer perovskite (BSCF) or double layer perovskite (NBSCF). This is attributed to the fact that as the structure becomes complicated, the defects increase and the reactivity becomes better.
The team also systematically identified the relationship between single-layer, double-layer, and triple-layer perovskite structures and catalytic activity, and identified the role of the defect structure in the oxygen-electrode catalytic activity. "We will be able to develop new low-cost metal oxide catalysts based on our understanding of the catalytic sites obtained at this time," says the research team.
"The catalytic material developed in this study will accelerate the commercialization of reversible fuel cells," says Professor Jun-Young Park from Sejong University. "We will be able to significantly improve existing performance by applying it to energy devices operating on a principle similar to that of fuel cells."
This study has been jointly led by Professor Jun-Young Park and Professor Sang Hoon Joo. Professor Taekjib Choi and Professor Young-Soo Seo from Sejong University, Professor Woo Seok Choi from Sungkyunkwan University, and Dr. Jun Yeon Hwang from Korea Institute of Science and Technology (KIST), and Dr. Kug-Seung Lee from Pohang Accelerator Laboratory have also partook in this research.
Journal Reference
Nam-In Kim et al., "Oxygen-deficient triple perovskites as highly active and durable bifunctional electrocatalysts for oxygen electrode reactions," Science Advances, (2018).