Distinguished Professor Kyungjae Myung's research team discovers a new function of mismatch repair protein MSH2-MSH3 in DNA double-strand break repair.
Their findings have been published in the May 2023 issue of Nucleic Acids Research.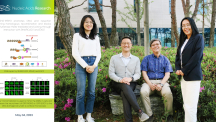 DNA is well known as the blueprint of life, necessary for an organism to facilitate living processes. DNA can be damaged by various factors such as radical metabolites, radiation, and some toxic chemicals. As DNA is a molecule consisting of... Read More
Professor Gun-Ho Kim received the Commendation of MSIT at the 2023 Science and Technology Promotion Merit Commendation Presentation Ceremony on May 2, 2023.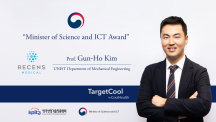 UNIST is pleased to announce that Professor Gun-Ho Kim, a distinguished member of the Department of Mechanical Engineering and the founder of RecensMedical Inc., has been bestowed with a commendation from the Minister of Science and ICT (MS... Read More