Professor Gun-Ho Kim received the Commendation of MSIT at the 2023 Science and Technology Promotion Merit Commendation Presentation Ceremony on May 2, 2023.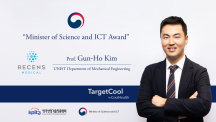 UNIST is pleased to announce that Professor Gun-Ho Kim, a distinguished member of the Department of Mechanical Engineering and the founder of RecensMedical Inc., has been bestowed with a commendation from the Minister of Science and ICT (MS... Read More
Dean Dong Sub Kim (College of Information-Bio Covergence Engineering) Recognized by MSS with the Minister's Commendations!
Three UNIST Faculty Members Appointed to the Review Board for National Research Faciliities and Equipment!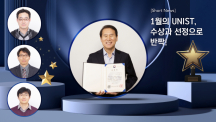 《Editor's Note: January has just ended and we would like to feature some highlights of recent awards and honors at UNIST. Here is a brief summary of those inspiring stories.》 ■ Dean Dong Sub Kim Awarded with Commendation from Ministry... Read More