Distinguished Professor Sang Il Seok won the Order of Science and Technology Merit Ungbi!
UNIST Signs Cooperation MoU with POSCO Chemical Co., Ltd.
KHNP Signs Joint Cooperation Agreement with Haeoreum Alliance Regional University!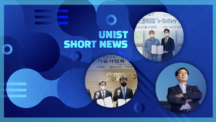 《Editor's Note: Editor's Note: UNIST has attracted considerable public attention recently, as its name was mentioned in both media and academic events. Here is a brief summary of recent news and events at UNIST.》 ■ Distinguished Professor S... Read More
Dean Dong Sub Kim (College of Information-Bio Covergence Engineering) Recognized by MSS with the Minister's Commendations!
Three UNIST Faculty Members Appointed to the Review Board for National Research Faciliities and Equipment!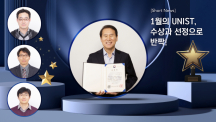 《Editor's Note: January has just ended and we would like to feature some highlights of recent awards and honors at UNIST. Here is a brief summary of those inspiring stories.》 ■ Dean Dong Sub Kim Awarded with Commendation from Ministry... Read More